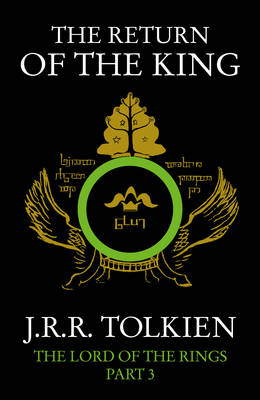 ***Warning: Spoilers Ahead!***
Check out my review of the first two books, The Fellowship of the Ring and The Two Towers.
Summary: This is the last book in the Lord of the Rings trilogy. It describes the success of Frodo and Sam in making it to the mountain; however, once they arrive, Frodo finds himself unable to cast the ring into the fire. Gollum wrestles for control and bites off Frodo's finger, obtaining his "precious" moments before slipping into the lava. This effectively ends the seemingly hopeless war that Gandalf, Aragorn, and many others had been waging against Sauron. Thus, Aragorn reclaims the role of king and marries Arwen. They begin setting things right in the land, and the Fellowship officially ends. The Hobbits travel most of the way back to the Shire with Gandalf, who leaves them to their task of rebuilding after Saruman's minions destroyed it. Gandalf notes that the Hobbits are quite capable of being heroes without him, and his strength is fading because his time in Middle Earth is ending. Eventually, Gandalf, Frodo, Bilbo, and the Elves travel over the sea. They are joined by Legolas, Gimli, and Sam, who bore the ring briefly for Frodo during their time in Mordor. However, the three remaining Hobbits lived long lives after the departure of Frodo and Bilbo, proving that obstacles in life that don't defeat us truly do make us stronger.
Peace and love.