Fall is probably my favorite season. As a teacher, I can finally settle back into a routine and have structure in my life. The weather is cold enough for all the mosquitoes and ticks to die but not usually cold enough to snow (unfortunately, this morning I woke up to a white lawn). The leaves change to some of my favorite colors: orange, yellow, brown. There are holidays to look forward to and time spent snuggling on the couch watching scary movies (for the Fall Fornelli Frightfest). Most excitingly, there is something about a calm, quiet morning before everyone else wakes up spent drinking coffee and reading something (hopefully) terrifying that really drives me. Plus, when I read in bed at night and truly scare myself, it's a great excuse for the hubby to wrap his arms around me while I curl up under the covers. Here are the eight books I hope can live up to that expectation.
Last Days by Adam Nevill: I watch a lot of BookTube (YouTube channels where they discuss books) and about four years ago this book was all over the place and getting glowing reviews. I am currently about one hundred pages into this large book (only four hundred and thirty-four to go) and here is what I know: There was a cult in the sixties that involved themselves with some evil stuff; in present day people are making a documentary about it. Oh, and on the cover of the book The Guardian wrote that Nevill is "Britain's answer to Stephen King." (I am going to stop The Guardian right there and exclaim, heartily, that, judging solely on his writing in this book, he is not, in fact, the next Stephen King.)
 Dreamcatcher by Stephen King: One of my life goals is to read every novel Stephen King has written. I currently have twenty-one left, including this. I believe it is about an alien invasion — I may have seen previews for the movie at some point. It's another long novel of about seven hundred pages, which sounds like a perfect way to spend a weekend.
 The Silence of the Lambs by Thomas Harris: I know, I know — this is part of a series and I haven't read the first one yet. Normally I would never skip to the second book of a series, but given that I have seen this movie probably ten times I feel like nothing will "get spoiled" for me that wasn't already. I am actually really excited to read this one but I'm worried that the movie characters will constantly be running in my head while I do (a major downfall of watching the film first).
 The Lords of Salem by Rob Zombie: I'm not even gonna try to front — I bought this book for the sole purpose of reading at Halloween time, and because it was written by Rob Zombie (whom I saw in concert last month and it was exactly what you would expect). It's about witches — perfect for October — and I think it actually came after the movie. I'd just really like to get this one off the shelf soon. It's fairly short so hopefully I can knock it out in just a few hours.
 The Road by Cormac McCarthy: Could this finally be the year I check this off my TBR? I know very little about this novel, other than that there is a movie based on it and it is set in a post-apocalyptic time, which seems like it should be right up my alley.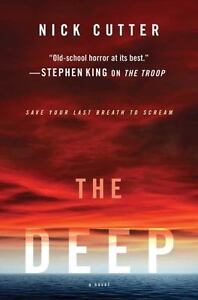 The Deep by Nick Cutter: I fell into the hype. Plagues. Clive Barker calling it "Utterly terrifying." An underwater lab. A tagline reading "Save your last breath to scream." I just really hope I'm not let down.
 20th Century Ghosts by Joe Hill: This is Stephen King's son, who is probably some sort of clone. Like, they look identical to each other and they are both horror writers of bestselling novels. I'm wondering if they aren't just the same person. Has anyone ever seen them in a room together? So, yeah, I had to give this one a chance. There's just something about a good ghost story, you know?
 Ibitsu by Haruto Ryo: I genuinely and truly have no idea what this graphic novel (Manga?) is about. I heard about it from one of my favorite BookTubers and immediately ordered it. She mentioned that it's a Japanese urban legend and once I saw the cover I was completely infatuated. Look at it. Have you seen anything so creepy? It even has a parental advisory for explicit content. I flipped through the pages and they are beautifully drawn. I'm so excited to read this.
What are you planning to read for this fall season? Did any of these make your list?
If you have any suggestions for books that scared you — genuinely got your heart racing — please let me know. I'm in the mood for a good scare, and I love recommendations to add to my list.
Peace and love.